San Diego developer Tim Foley turned what could have been a simple North Park apartment development into one with many moving parts, including a 2,300 square-foot house that had to be relocated.
Foley's plan was to build a 19-unit apartment complex — the Avanti Apartments — on a Ray Street lot, but first he had to contend with the house that was already there.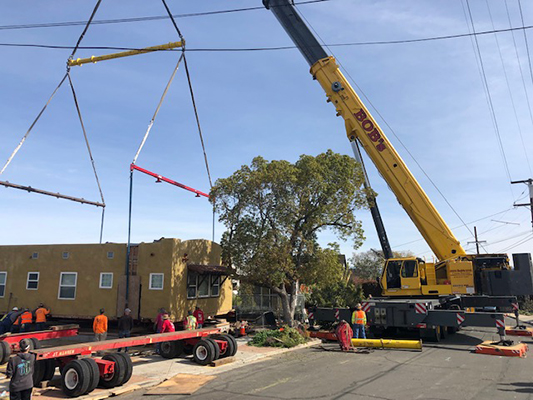 "It was a beautiful house. It was modeled after an adobe-style house," Foley said. "The house was built only four years ago, so we didn't want to crush it. We chose to relocate the house in a neighborhood that had houses that were very similar."
Foley did raze an existing structure on a Sydney Place hillside lot to make way for the moved house, but he said that building had been condemned because of structural damage caused by erosion.
"It's a hillside lot and the foundation was bad and it had been red-flagged," Foley said.
He plans to renovate the house he moved and build an additional 1,600 square-foot house next to it as rental units.
"The house itself didn't get damaged at all," Foley said.
Moving the house cost about $45,000.
He estimated it would cost an additional $250,000 to complete the Sydney Place project, which he said should be finished by summer.
This isn't the first time that Foley's moved a house to clear a development site.
He did it a few years back with a craftsman-style house, but it didn't go so well.
"It basically fell apart," Foley said. "They've gotten a lot better with the technology of moving these things. They have all these huge beams to make sure the house doesn't sway or move. They pick it up with these straps."
This time, the house didn't fall apart, but moving it was challenging because it had to be lifted over a 35-foot tree that was next to it, Foley said.
With the Ray Street site cleared, Foley is starting construction on the $14 million Avanti Apartments and expects to finish them by the end of the year.
The six-story building will feature views "of pretty much the whole city and Balboa Park" from the third floor up, Foley said.
The apartments will average 1,200 square feet with two bedrooms and two bathrooms.
They'll have "all the latest and greatest" in appliances and finishes, including hardwood floors, Foley said.
His company — Foley Development — has several other ongoing projects, including renovation of a seven story parking garage on Fifth Avenue and a 150,000 square-foot mixed use project that will take up the entire 2100 block of Third Avenue between Hawthorn and Ivy streets and half the 2100 block of Fourth Avenue.
Wednesday, March 13, 2019