Community Plan Updates
With goals including cutting pollutants and boosting the city's stock of affordable housing, community plan updates are taking place in some of San Diego's oldest and highest-trafficked neighborhoods.
Recently Approved: Uptown — The city has approved an update for the district that includes Hillcrest, Bankers Hill, Mission Hills, Middletown and part of University Heights. The main change was removal of a moratorium on height limits in a portion of Hillcrest, as the city finalizes details of a proposed new "gateway'' area that could include higher-density housing developments.
Recently Approved: North Park and Golden Hill — Changes include an increase in allowed density — from a maximum of 109 to as many as 145 residential units per acre — in certain portions of North Park's main transit corridors.
Under Review: Mission Valley — The city is in the midst of a multiphase process of updating a community plan last refreshed in 1985. Traffic and housing are among key issues being addressed, as the neighborhood has numerous large development projects coming before planners.
Source: City of San Diego
San Diego — The San Diego City Council recently removed a barrier to potential high-rise development in the core of the popular Hillcrest neighborhood, though it could be a year or more before a development blueprint for the neighborhood is in place.
During 2017 and beyond, the city will be considering projects that fit numerous goals put in place as part of recently approved community plan updates for the Uptown area west of Balboa Park — which includes Hillcrest — and North Park and Golden Hill to the east of the park.
City officials will be deciding those projects with an eye toward helping San Diego meet longtime needs for more affordable apartments and other housing. Those developments must also help the city reach goals set under an ambitious climate action plan, approved in late 2015, calling for San Diego to reduce its annual carbon emissions by 50 percent over the next 20 years.
Higher-density projects are often not popular among current residents in many neighborhoods, but government leaders, developers and other observers see them as key to meeting both objectives. City planners want to encourage development of walk-friendly neighborhoods built near public transit, which in theory should cut down on car trips. Developers see higher density as the chief way to keep prices relatively low when building residential units into their projects.
Aiming Higher
Density has been a particularly sore issue for decades in Hillcrest, a popular and historic neighborhood within Uptown, which also includes Bankers Hill, Mission Hills and Middletown.
In November, the City Council voted 7-2 to approve an Uptown community plan update that essentially retains density standards put in place when the plan was first adopted in 1988.
However, officials removed a temporary moratorium on high-rise, high-density Hillcrest projects, which had been imposed in 2008 and disallowed projects taller than 65 feet, and will now allow projects of 120 feet or higher under certain conditions.
Exactly how the core of Hillcrest is developed, after years of uncertainty and community disputes, is yet to be determined. The San Diego council directed city staff to initiate a site-specific plan covering the Hillcrest core, generally an area running between Fourth and Seventh avenues from west to east, and between Washington Street and Pennsylvania Avenue from north to south.
City officials will aim to reach an agreement with property owners, allowing for increased density in exchange for public amenities and additional affordable housing units.
Affordable Housing Hurdles
Property owners in that district, including several who are part of a coalition known as the Uptown Gateway Council, have contended that development of affordable housing is not feasible under current zoning standards.
"As it is now, we're either going to have no new development in Hillcrest, or we're going to have just the high-end luxury types of residential development you're seeing in places like Bankers Hill," said Elizabeth Robinson, asset manager for San Diego-based The Greenwald Co.
The development firm is led by Bennet Greenwald, a member of the gateway coalition. The 14-member group has put forward design concepts calling for elements including a central park or open space with high-rise residential towers. Those towers have informally been proposed to be as tall as 25 stories — approximately 200 to 250 feet high — though actual height standards still need to be established in talks with the city.
Coalition members estimate that the changes now being discussed by the city should allow around 150 to 200 residential units per acre to be developed in the proposed gateway district, the level at which units can be built at affordable rates.
Robinson said the goal long-term is to make the core of Hillcrest a self-sufficient, work-live neighborhood, with elements similar to what currently exists in Little Italy, where developers and businesses contribute to an improvement district which helps pay for public amenities, maintenance and related costs.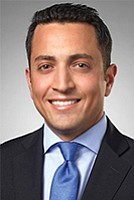 Years Away?
Coalition member Nick Totah, a Hillcrest property owner who is also a commercial real estate broker with Marcus & Millichap, said actual new development in the Hillcrest core could be years away. The city first needs to establish standards for the new gateway district, then process specific projects for that district with the required public discussion.
Also at play, as in past economic cycles, is how quickly developers will be able to get together the needed financing for their projects. Totah noted that commercial development activity locally and nationally has been slowing after several years of post-recession growth, and the Federal Reserve's recent small hike in short-term interest rates could eventually make projects more expensive to build.
Still, he and Robinson said the Hillcrest zoning update is significant for creating more certainty as to what will be allowed in the core district, after several years of limbo.
Cultural Significance
Hillcrest includes several aging properties, including the shuttered Pernicano's restaurant site on Sixth Avenue. While he is not involved in planning for the Pernicano's property, Totah said developers should be able to assemble a feasible proposal for a mixed-use project at that site, likely with residential and retail elements.
The Pernicano family is in the process of selling the restaurant site to a development group, though the buyer and specific plans have not been announced. Observers have said that further clarity will likely come out of the probate process, following the recent death of property owner George Pernicano.
The San Diego Chargers minority owner, who ran the family-owned Pernicano's restaurants for several decades, had declined on multiple occasions to redevelop or sell the Hillcrest site since the restaurant closed at that location more than 30 years ago.
Developers have acknowledged that they will also need to plan projects with an eye toward Hillcrest's history. The popular neighborhood has particular cultural significance to preservationists and the city's LGBT community.